Dear Friends,
At this start of a new year and a new decade, the world faces two distinct existential threats: nuclear proliferation and the climate crisis.
Responding to these threats is critical, but made harder at a time when multilateral co-operation is being undermined by populism, nationalism and a failure of collective solidarity.
In a December 2019 statement on the crisis facing multilateralism, The Elders called on all world leaders to:
'acknowledge that effective multilateralism is in their own national interest, regardless of size or strength. Getting others to cooperate by means of internationally-agreed mechanisms is less costly and more reliable than unilateral force.'
Such an approach is not only needed in order to tackle the climate crisis and nuclear non-proliferation but also crucially important in addressing the alarming escalation of tensions across the Middle East – Iran, Palestine, Libya, Syria and Yemen to name but a few.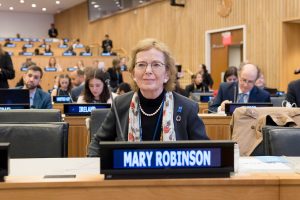 As the United Nations marks its 75th year, the world needs a new vision and a bold sense of purpose if we are to prevent the scourge of war and overcome the existential threats we face.
On nuclear non-proliferation, The Elders continue to speak clearly and forcefully about the need for all nuclear powers to get serious about disarmament and to act now to prevent incommensurable devastation. Crucially, this means the US and Russia taking clear steps in 2020 towards the renewal of the New START agreement on nuclear arms control.
On the climate crisis, The Elders recognise the need for a bold new initiative. The disappointing outcome of COP25 in Madrid shows that there is still insufficient political will for urgent, collective action to avert catastrophe.
We need a new mindset that recognises the urgency of the challenge the IPCC posed in its report on warming at 1.5˚C. New ideas are borne from a shared understanding that we need to reduce global carbon emissions by 45% by 2030 and be carbon neutral before 2050.
The United Nations will mark its 75th anniversary with a global dialogue on its future and purpose. This is a cause for celebration, but also for speaking frank truths. In an address to the UN Security Council earlier this month I made clear that the UN – and especially its Security Council – need to be a key player in tackling global challenges, but that it is seen by many as not being fit for purpose.
Too many member states, not least those with the special responsibility of holding Permanent Seats, treat it as a forum for advancing their own narrow interests rather than a means of addressing common challenges.
The Elders also call on UN member states to do more in 2020 to advance gender equality. Women drew up a remarkable multilateral agenda in Beijing 25 years ago, and this year also marks the twentieth anniversary of Security Council Resolution 1325 on women, conflict and peacebuilding. But women now face a backlash in marking these momentous anniversaries. Greater priority must be given to the terrible problem of systemic violence and discrimination against women and girls – a cause of immense suffering that The Elders will continue to draw attention to.
When The Elders founder, Nelson Mandela, addressed the UN General Assembly on 3rd October 1994 as President of South Africa he posed this question:
"given the interdependence of the nations of the world, what is it that we can and must do to ensure that democracy, peace and prosperity prevail everywhere?"
To which he suggested a new initiative was needed, one that "should inspire all of humanity because of the seriousness of its intent."
The time for such a new initiative to protect people and planet is surely now. Future generations will neither forget nor forgive if we squander this opportunity.
Mary Robinson
10/01/2020
Featured image: The Elders at their November 2018 Board Meeting in London, Robinson appointed Chair of The Elders